We are following all CDC recommendations, ask your doula more about her safety measures.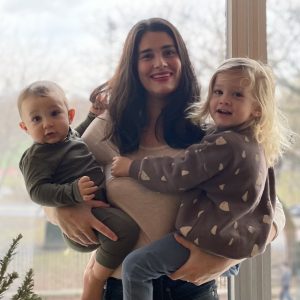 46 F.B.
Currently on maternity leave
| Service type | Service area | Experience | Availability |
| --- | --- | --- | --- |
| In Person, Virtual | Brooklyn, Manhattan, Queens | 1 year | |
My name is F.. I am an Italian NYC based
Vinyasa and Prenatal Yoga Teacher
and a Full Spectrum Doula. I was born
and raised in Milan but my dad is from
the beautiful southern island of Sicily
and my mom is from a little town
called Marina di Massa in Tuscany. I
have worked in fashion for many
years until I discovered Yoga and my
life changed. After a few years of
practice I decided to become a
teacher to help others live happier
and healthier lives. I am married to an
amazing French man with whom I
have two beautiful sons (Leon and
Sacha). Since my first son was born I
became really passionate about
pregnancy so I have been teaching
more and more prenatal classes.
Shortly after I decided to become a Full Spectrum Doula so that I could go above and beyond preparing
people's bodies for birth. I provide emotional, physical and educational support during the full spectrum
of pregnancy. My Italian name means 'someone that protects' and my doula philosophy truly embodies
this role. I will protect you, your rights and your wishes.