We are following all CDC recommendations, ask your doula more about her safety measures.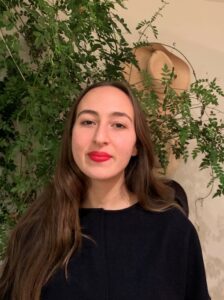 27 L.M.
Birth Doula | Lactation Counselor (1 week training) | Postpartum Doula
| Service type | Service area | Experience |
| --- | --- | --- |
| In Person, Virtual | Brooklyn, Manhattan, Queens | 5 years |
L. was called to birth work first through an internship with a home birth midwife in Upstate NY. She later received her doula certification and moved back home to Brooklyn where she now works as a birth and postpartum doula as well as a certified lactation counselor (CLC). In addition to her private doula practice she works for the NYC Department of Health as a birth and postpartum doula for Brooklyn families in need. Her interest in birth expands beyond doula work to include an exhibition on birth in modern and contemporary art as well as an ethnographic study of midwives and doulas experiences of racial inequity in the maternal healthcare system of Upstate NY.
L. finds joy and purpose in supporting pregnant, birthing, and postpartum people with evidence-based information and compassion, and is trained in the Spinning Babies technique of fetal positioning as well as in comforting touch and massage. She loves to share her depth of knowledge on the amazing physiology of birth, and encourages her clients to find and trust their intuition, bodies, and innate abilities to birth and to parent. As a prospective midwifery student and former midwives intern she is well-versed in everything from home birth to high risk medicalized hospital birth. In her free time she likes to travel and to cook for friends.