We are following all CDC recommendations, ask your doula more about her safety measures.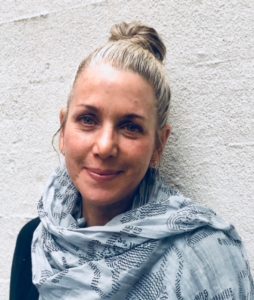 Gayle
Birth Doula, Lactation Counselor (1 week training), Postpartum Doula
| Service type | Service area | Experience |
| --- | --- | --- |
| In Person, Virtual | Brooklyn, Manhattan | 22 years |
I grew up in the San Francisco Bay Area and moved to NYC in 1990. I am a mother of two, writer, prenatal yoga teacher, doula and enthusiastic childbirth educator and advocate. Since 1999 I have had the honor serving mothers, partners and babies as both a labor support doula and postpartum guide.
In 2005 I created Shakti Ma in Maplewood NJ, where for seven years I directed the pre and postnatal yoga and childbirth education programs. I am a graduate of Integral Yoga Institute (2003); I received my advanced pregnancy yoga certification from Gurmukh at Golden Bridge NYC and my advanced doula training with Debra Pascali-Bonaro. I am also a certified lactation counselor (CLC).
Initiated into yoga while pregnant with my first child, I am committed to continual exploration and evolution in my own practice. Both my teaching craft and my personal practice are fortified by the light of many amazing teachers on my path.
One more thing, and that is I feel lucky to still genuinely love what I do, and especially to have found ways to continue serving people both virtually and in person over this past year.