Is a baby latching on? How to tell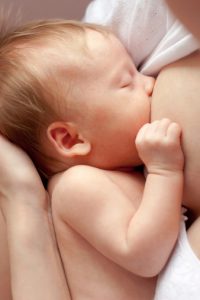 Signs of a Good Suck
The following are signs that the baby is sucking properly at the breast.
Upon initial latch baby will begin to suck quickly
These quick sucks will trigger mothers letdown reflex.
Baby's sucking will become longer and a suck-suck-pause pattern should develop as the milk lets down.
Baby's ear and temple will wiggle with each suck.
Mother should feel a gentle tugging, but no pain.
DONA: www.dona.org
Baby's lips should be flanged and tongue should cup the breast.
See it: The temple/ear wiggle, jaw movement
Feel it: Gentle tugging at the breast
Hear it: Audible suck, swallow, pattern