Childbirth Classes New York
Does your partner know what to do when you give birth? Come to our class to learn together.
Highly recommended. My husband and I took a 4 hour semi-private prenatal childbirth and infant care class with Stephanie yesterday. The class was excellent: well-organized, upbeat, clear, and managed to pack an amazing amount of information in to the time. Stephanie is clearly an expert in all aspects of before/during/after birth and she is also an extremely competent educator. The class was structured and fast-paced, but it was also conversational. With such a small class size, I felt comfortable asking questions and sharing concerns I definitely would not have among a larger group, and I particularly appreciated Stephanie's direct, confident replies. We took the class as a supplement to a childbirth class at the hospital and now I can't imagine feeling as well-prepared without Stephanie's class. She also emailed us several super helpful resources following the class and offered to remain available for follow up questions.
In this comprehensive workshop you will learn everything you need to know about labor and birth. Come experience an extraordinary workshop designed to prepare you and your partner for one of the most important days of your life.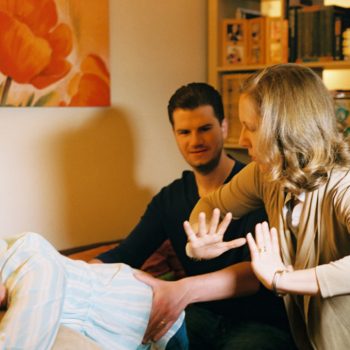 New York City Childbirth Class Content
The 10 signs of labor and how you can really labor at home a long time
Birthing in action- phases of labor made easy
What your brain has to do with all this
Yes, we will be breathing- a lot! You will learn the best techniques for every phase of labor
20 ways to improve your pain-threshold during labor
Powerful techniques and exercises simulating contractions
Discover how birth partners can help
Natural birth vs epidural- what the controversy is all about
How to set appropriate goals during your birth
Why a birth plan is the key to a good birth experience and how to write one (and it could be one sentence long only!)
Learn to navigate the hospital protocols and procedures
Why a doula lowers the csection risk by 40% and whether to have a doula for your own birth

When and how to say no when interventions are suggested
The 3 most important things to do to avoid perineal tearing
What "pushing" actually means
How your little one actively helps to be born
The first two hours after birth and how to keep the room quiet
When the "I can successfully breastfeed"- time-window closes
10 key things you didn't know about breastfeeding
The inextricable link between how you birth and how healthy your baby will be after birth
Breastfeeding 101- you will receive a comprehensive handout with breastfeeding FAQ
Get a clear picture of what the postpartum weeks will look like and how they can be AMAZING (like your birth!)
Discover how to avoid breastfeeding problems
Receive introductions to post partum specialists who can jump in when needed