We are following all CDC recommendations, ask your doula more about her safety measures.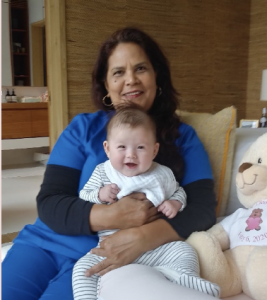 51 R.M.
Baby specialist/night nanny | Offering live-in services | Offering overnight services
| Service type | Service area | Experience |
| --- | --- | --- |
| In Person | Bronx, Brooklyn, Manhattan, New Jersey, Staten Island | 18 years |
Highlights of Qualifications:
Familiarity with feeding, bathing, dressing, diapering and circumcision care, outstanding knowledge about newborn care and breastfeeding. Ability to entertain newborns with talking singing playing music and reading, can initiate sleeping and eating routine, which is important for newborns. Can keep a log of feeding sleeping and changing times for babies. Possess impressive verbal communication skills especially with baby's .Very good at sleep training. Children 2 and up Adept at organizing children daily schedules including meals school and recreational activities. Proficient in communicating with children at different development stages. Ability to stay calm under pressure. Perform housework related to childcare such as laundry, cleaning up after meals, tidying play area and assisting with bathing. Transporting children to and from school, after school activities and parks and playgrounds.